December 2021
What are the different types of piles?
There are different types of piles, each of which has a specific purpose and only an expert can determine which type of pile should be used in which case.
HYDRAULIC PILES
The hydraulic pile is the most commonly used pile to straighten a structure. Whether it is a house, a commercial building or any other concrete structure, if the structure has collapsed due to soil conditions, the hydraulic pile will be used.
The first step is to attach an anchor shoe to the foundation which will be used to drive the pile but also to retain the structure once the driving is completed. The pile will be driven to the refusal by using the weight of the structure to drive it. It is mostly manual work and not with heavy equipment.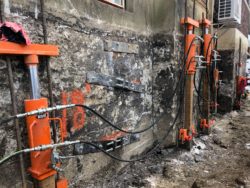 DRIVEN PILES
The driven pile is mostly used before the construction of a structure to prevent future movements. Using heavy equipment, the pile is driven to the refusal point with percussion hammers. Once all the piles have been driven to the refusal, a pile head will be placed on it and the structure will be built on all the piles.
The structure will then rest on the piles and not on the potentially unstable soil. This method is more and more widespread and is becoming a basic standard since we have strong periods of drought in the summer and the soils are more and more unstable, due to the clay, particularly in the Greater Montreal area.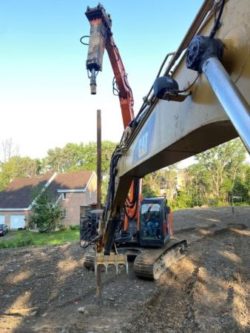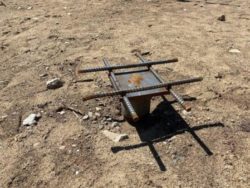 SCREWED PILES
The screw pile is a pile more often used to retain lighter loads. In some exceptions, in commercial applications, a screw pile can be oversized to support a heavy load but this is very rare.
The auger-installed pile is screwed in place with small equipment and will be used mostly to hold back porches, garden sheds or house extensions.
Some companies use augered piles to stabilize houses, but these piles do not turn down and could cause future movement of the structure despite stabilization.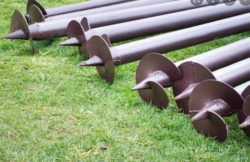 Do you HAVE QUESTIONS ABOUT FOUNDATION PILING?
We are available 7 days a week and 24 hours a day to answer your questions.
You have 3 ways to contact us:
Lesage Excavation has been providing pile foundation and foundation stabilization services for over 15 years. Winner of the 2020 and 2021 Consumer's Choice Award in the foundation repair category, our expertise and customer service are recognized throughout the Greater Montreal area.
We mainly serve the Montérégie, the Greater Montreal, the South Shore, a part of the North Shore as well as Ontario; and more specifically
Vaudreuil-Dorion – Montreal – Laval – Longueuil – Brossard – Candiac – Salaberry de Valleyfield – North Lancaster – South Glengarry – Alexandria – Hawkesbury – Rigaud – Hudson – Pincourt – Notre-Dame-De-L'ile-Perrot – Lachute – Montebello
We can also travel to more remote areas when it is a complex project and the owner cannot find a certified contractor in their area.