March 2020
What are anchor shoes for pile foundation?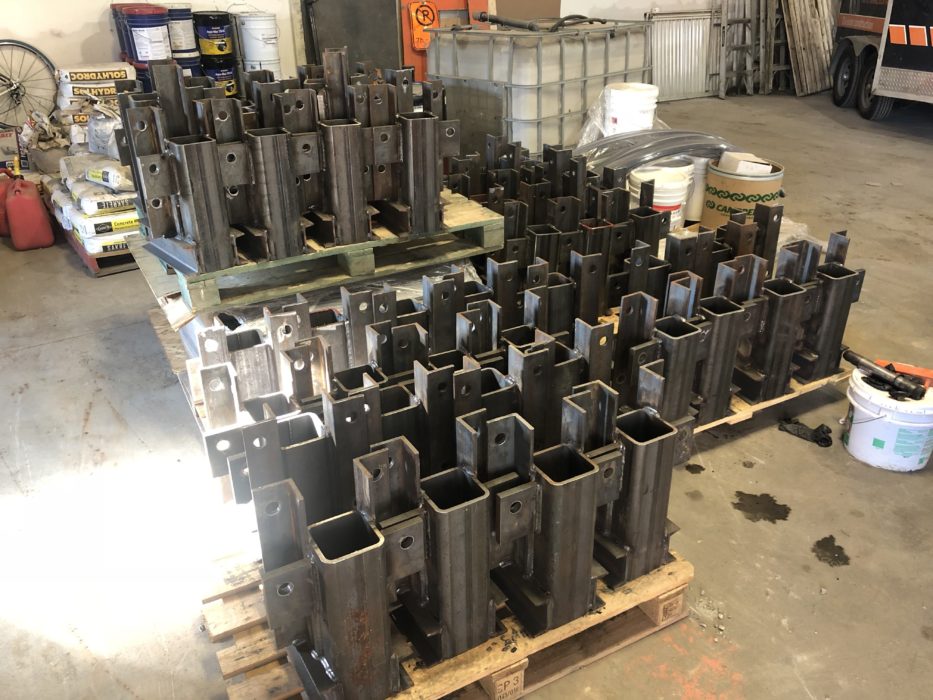 In a pile foundation project, stirrups or anchor shoes are the steel elements attached to the foundation, which when welded to the piles, stabilize a house.
That's why we need a lot of anchor shoes.
The order in the pictures looks large because it will be used to solidify the foundation of an income building on the island of Montreal.
After digging a trench around the building, the stirrups are slid under the footing and attached to the foundation wall. When the pile is driven to the refusal point (the point where the pile reaches the rocky soil and can no longer be driven), we weld it to the shoe.
The pile will then be filled with concrete so that corrosion does not attack it.
Why and when to use anchor shoes?
Anchor shoes are used for stabilization work on a house or building, especially when the foundation is sagging or cracked. The objective is to avoid serious damage to the rest of the building. These situations can occur because of the nature of the land and soil movement. In Quebec, and particularly in the Greater Montreal area, the main cause of these movements is the dryness of the soil, due to its composition. Indeed, the type of clay of the St. Lawrence Valley is particularly sensitive to water deficit creating many problems of soil drying. These problems are intensified by various human and natural activities (drought, urbanization, tarring of streets, sidewalks and parking lots…).
You have doubts about the stability of your foundation?
We are available 7 days a week and 24 hours a day. You have 3 ways to contact us:
Lesage Excavation has been providing foundation repair and stabilization services for over 15 years. Winner of the 2020 and 2021 Consumer's Choice Award in the foundation repair category, our expertise and customer service are recognized throughout the Greater Montreal area.
We mainly serve the Montérégie, the Greater Montreal, the South Shore, a part of the North Shore as well as Ontario; and more specifically
Vaudreuil-Dorion – Montreal – Laval – Longueuil – Brossard – Candiac – Salaberry de Valleyfield – North Lancaster – South Glengarry – Alexandria – Hawkesbury – Rigaud – Hudson – Pincourt – Notre-Dame-De-L'ile-Perrot – Lachute – Montebello
We can also travel to more remote areas when it is a complex project and the owner cannot find a certified contractor in their area.