March 2019
THIS IS NOT DRYER FOAM!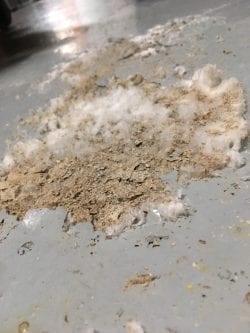 Often we are called to go and identify this white powder that some real estate owners find on their foundation walls or on their concrete floors. From the arrival of a representative we can immediately identify that it is efflorescence. Not to be confused with effervescence, many people are mistaken. But why is there efflorescence on concrete surfaces? Efflorescence appears on concrete surfaces when they are in contact with water for a long time. A mineral salt emerges from the concrete and forms crystals. Although it is not harmful to your health, it mostly conceals a bigger problem.
The drainage system and the waterproofing of the foundations of a property should control the moisture level so that it does not happen. If the efflorescence appears in the center of a foundation one can suspect that it is a small hole or a crack in the foundation.
If it is a white powder line at the bottom of the wall then the French drain can be suspected. A more in-depth study to define the cause is in order. Leaving your foundations too long soaked in water will cause major problems. We must act!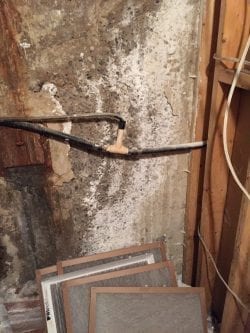 WHAT IS CONCRETE EFFLORESCENCE?
Efflorescence is simply salt! Concrete contains calcium and when concrete comes into repeated contact with water, the salt crystallizes and is extracted from the concrete. Don't taste your efflorescence, but if you were to put it on the tip of your tongue, it would probably remind you of an overly salty dish you bought at a gas station.
The onset of efflorescence can occur at any time of the year but it depends on the cause. If the efflorescence is mostly on your foundation walls, it means that you have a crack in your foundation or that your foundation needs to be waterproofed. If the efflorescence is on your basement floor, it probably means you have a problem with your French drain.
Many people will notice efflorescence appearing in the spring since this is the time of year when water is most present in the soil. However, some homes are built too deep in the ground and may experience this problem year round.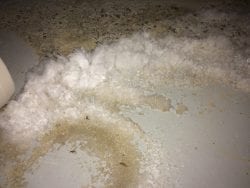 EFFLORESCENCE OR MOLD?
The efflorescence is white and looks like cotton candy. When touched, it falls apart and becomes powdery. Mold can take many forms. It can be black, it can be a fungus. We have seen houses so contaminated with mold that the basement floor looked like a Smurf village.
In order to ascertain the source and nature of the findings, we recommend having an air quality test done by a specialized company. This analysis will determine what the contaminants are and the best way to deal with them.
Very important! Never decontaminate or remove mold yourself. You risk making yourself sick as some molds are extremely toxic and can cause serious respiratory illness.
If you have any doubts, call one of our experts and we will be happy to guide you through the steps to undertake your project safely.
PRESENCE OF WHITE POWDER: WHY HAVE YOUR INSTALLATIONS CHECKED?
If you have white powder on your floors or walls, it is certain that there is a problem with the drainage system of your foundation. Sweeping or mopping will not solve the problem. You must act immediately. A water infiltration or efflorescence problem that is not taken care of can result in serious structural and even health problems.
Molds love humidity and some types of efflorescence can be very damaging to the human respiratory system.
We can help you find the cause and determine the corrective measures to be taken in order to regain the tranquility and safety of your home.
YOU NOTICE TRACES OF WHITE POWDER ON YOUR WALLS OR CONCRETE FLOORS?
You must contact our experts immediately. We will come to you quickly and will be able to establish a game plan as well as the steps to follow. From the air test to the realization of the corrective measures, you will be accompanied by one of our project managers available 24 hours a day, 7 days a week, to ensure that the project runs smoothly and with respect for its occupants.
You have 3 possibilities to contact us:
For over 15 years, Lesage Excavation has been providing French drain installation and repair services. Winner of the 2020 and 2021 Consumer's Choice Award in the foundation repair category, our expertise and customer service are recognized throughout the Greater Montreal area.
We mainly serve the Montérégie, the Greater Montreal, the South Shore, part of the North Shore as well as Ontario; and more specifically
Vaudreuil-Dorion – Montreal – Laval – Longueuil – Brossard – Candiac – Salaberry de Valleyfield – North Lancaster – South Glengarry – Alexandria – Hawkesbury – Rigaud – Hudson – Pincourt – Notre-Dame-De-L'ile-Perrot – Lachute – Montebello
We can also travel to more remote areas when the project is complex and the owner cannot find a certified contractor in his area.