February 2020
CATCH BASIN
WHAT IS A CATCH BASIN?
A catch basin is a plastic or concrete container installed underground to capture water from a drainage system (especially when it is not possible to provide a sufficient slope to ensure effective drainage).
The catch basin can be used for a number of purposes, including capturing water from rain, snowmelt, gutters, etc.
When installing a French drain and a catch basin, a sump pump will be installed inside the building to capture the water coming from the drainage system. Once in the basin, the water will be evacuated to the municipal services by means of a submersible pump or by a gravity evacuation with a non-return valve.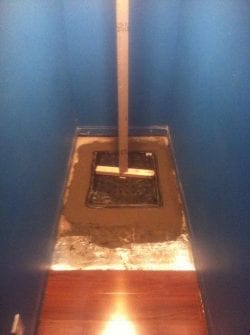 Indoor vs. outdoor basin
Ideally a catch basin should always be installed inside the building. Many people think that putting the basin outside will prevent overflow problems but in reality, the opposite is true. An indoor catch basin will be safe from freezing and much more easily accessible if a problem occurs. There are measures to notify residents in case of a problem (with the installation of alarm systems for example) or to prevent the risk of overflow (with an anti-backflow system).
At the same time, the sump, installed outside, must be checked periodically to ensure that the submersible pump is working properly. Some special situations require the installation of such a sump. In this case, prevention systems such as a high level alarm and safety pumps should be installed to ensure that the primary pump is taken care of in case of malfunction.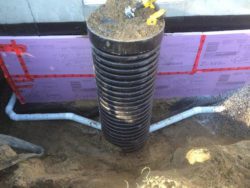 What type of material to choose?
99% of the time we install PVC catch basin for the following reasons
Ease of installation
Lower cost
Pump sealing (to meet the new Radon protection standards*)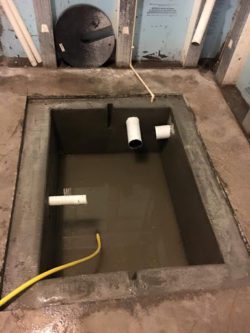 Which catch basin to choose?
When we install a catch basin for a submersible pump in the residential sector, we use basins that have a dimension of 18"X24" (the most commonly used). This size is ideal for capturing water from the French drain for a standard size home. However, this size is not recommended when we are doing foundation waterproofing work on a larger building and need to capture a larger volume of water from the water table.
In this case, we use much larger basins. Sometimes they are made of prefabricated plastic and sometimes we will build a custom catchment basin in reinforced concrete. Regardless of the size of the project, we adjust our French drain system according to the water flow.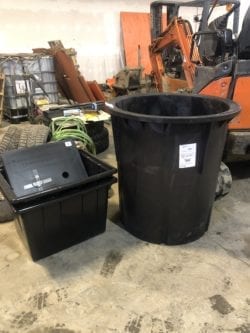 Why install a plastic basin instead of a concrete one?
Over time, concrete ponds can degrade and allow water from the ground to enter through their walls. This results in unnecessary water collection and unnecessary operation of pumping systems.
In some circumstances, we install concrete catch basins because the capacity of PVC tanks is not sufficient. In these situations, we have to custom fabricate the concrete sumps and have steel covers machined and sealed with bitumen joints.
Steps to install a catch basin
Detail of the steps of a catch basin installation project
Demolition of the concrete and its layout
Excavation to the desired depth
Placement of a granular base to have a level foundation
Installation of the catch basin
Placement of crushed stone around the basin
Leveling the pond in all its axes and validating the height
Connection of all the necessary pipes
Adding rock pails to the bottom of the sump to prevent groundwater from pushing up during the curing of the concrete
Finalizing the backfill around the sump with crushed stone
Refinishing the concrete
You need to install or replace a catch basin?
Lesage Excavation has been providing catch basin installation and replacement for over 15 years.
Winner of the 2020 and 2021 Consumer's Choice Award in the foundation repair category, our expertise and customer service are recognized throughout the Greater Montreal area.
We are available 7 days a week and 24 hours a day to answer your questions.
You have 3 ways to contact us:
We mainly serve the Montérégie, the Greater Montreal, the South Shore, a part of the North Shore as well as Ontario; and more specifically
Vaudreuil-Dorion – Montreal – Laval – Longueuil – Brossard – Candiac – Salaberry de Valleyfield – North Lancaster – South Glengarry – Alexandria – Hawkesbury – Rigaud – Hudson – Pincourt – Notre-Dame-De-L'ile-Perrot – Lachute – Montebello
We can also travel to more remote areas when it is a complex project and the owner cannot find a certified contractor in their area.