December 2021
Interior piling
What is interior piling?
Interior piling consists in stabilizing the foundations of a building without having to excavate. The piles will be installed from the inside of the building and the earthwork around the foundations will be saved. It is a technique mostly used when the neighboring buildings are stuck to the one to pile. We can therefore stabilize the 4 foundation walls since the 2 adjoining walls cannot be reached from the outside.
In some cases, a new house may need to be rammed following its construction. If the bearing capacity of the soil has not been verified by the contractor and the building requires stabilization in the years following its construction, we can install piles from the inside if the earthwork is new and the basement is not finished.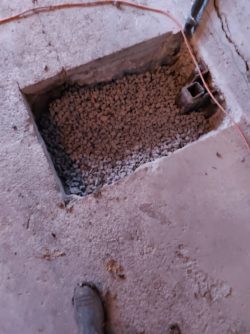 Steps to install an interior foundation stabilization system
Provision of an engineer's plan
Demolition of the concrete slab at the pile areas
Installation of anchor shoes at the foundation
Driving the piles to bedrock
Straightening and stabilizing the foundation
Welding the piles to the anchor shoes
Filling the piles with concrete
Closing the concrete slab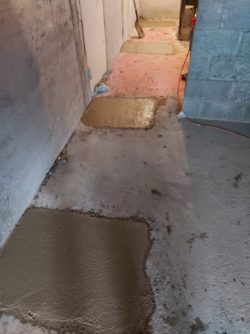 What are the advantages and disadvantages of stabilizing the foundation from the inside?
Installing foundation piles with anchor shoes inside a building has various advantages such as
Lower costs because no exterior excavation is required
Work can be done throughout the year (especially in winter)
A slight impact on the property
Preservation of earthwork elements
A quick turnaround time
However, you should know that there are also limits when you want to carry out this type of work:
Impossibility to waterproof the foundations in case of waterproofing problems
No repair of the foundations from the outside
Do you have an interior piling project?
We are available 7 days a week and 24 hours a day to answer your questions.
You have 3 ways to contact us:
<ul> <li style="font-size:2rem">Nous appeler au <a href="tel:(514) 219-0125″>(514) 219-0125</a></li> <li style="font-size:2rem">Envoyer un courriel à : <a href="mailto:info@lesageexcavation.com">info@lesageexcavation.com</a></li> <li style="font-size:2rem"><a href="https://lesageexcavation.ca/soumission/">Soumettre votre projet en ligne ici</a></li> </ul>
For over 15 years, Lesage Excavation has been providing interior piling services.
Winner of the 2020 and 2021 Consumer's Choice Award in the foundation repair category, our expertise and customer service are recognized throughout the Greater Montreal area.
We mainly serve the Montérégie, the Greater Montreal, the South Shore, part of the North Shore as well as Ontario; and more specifically
Vaudreuil-Dorion – Montreal – Laval – Longueuil – Brossard – Candiac – Salaberry de Valleyfield – North Lancaster – South Glengarry – Alexandria – Hawkesbury – Rigaud – Hudson – Pincourt – Notre-Dame-De-L'ile-Perrot – Lachute – Montebello
We can also travel to more remote areas when the project is complex and the owner cannot find a certified contractor in his area.